Image Gallery
Here you will find some nice photos of our past puppies with comments from their new families!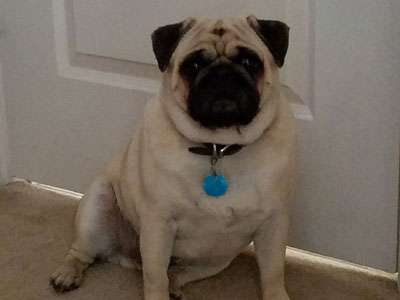 "Gizmo born Jan 11th 2016 best Pug I have had thanks for a great dog."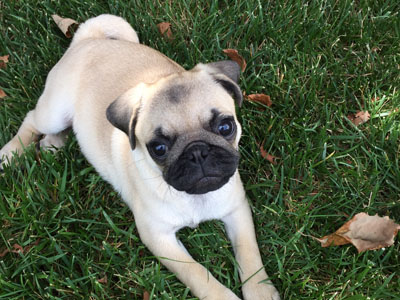 "Her cute personality is starting to show. She loves to run free in the fenced backyard and to take walks on a leash with her big sister Roxy. KC wants to walk in front but never far from Roxy. They play well together. KC is a great eater, sits and shakes hands on command and is doing well with potty training. We love her to pieces❤"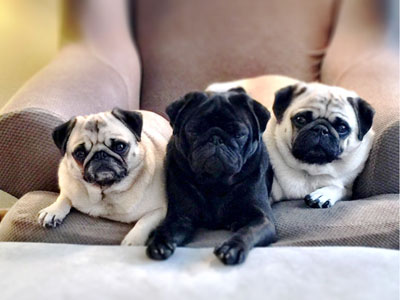 "Just wanted to send you a picture of the three pugs we got from you. They are all very happy together — living in their pug rumble."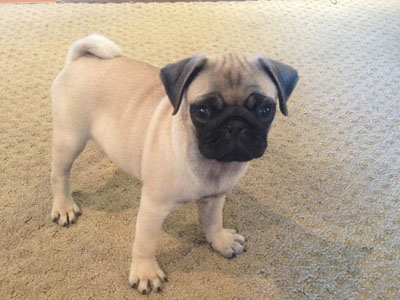 "Phoebe is doing so well and we just love her! She is adjusting well to our home! She loves Angus and is very interested in our cats who are just as interested in her! She is doing great at night too!! She's really amazing! Thank you again. You really do a incredible job. I told our vet about you just in case someone was looking for a great pug!"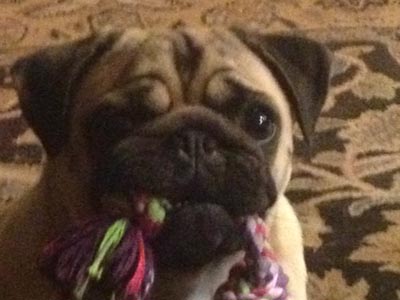 "It's been almost a year since Luda (formerly known as Skittles) joined our little family and we wanted to check in and let you know what a wonderful little Pug she is! She celebrated her first birthday earlier this month; she is happy, healthy and the light of our lives. Everyone tells us how good looking and fun-loving she is and her vet is very impressed with her vitality. Luda is without a doubt one of their favorite little patients. She has the greatest personality - she loves to play just as much as she loves to cuddle and she just loves making friends with the other dogs in the neighborhood. Luda's best friend, however, is our little kitty. They play together, sleep together and occassionally chase a bug or two together too. When she isn't spending time with the cat she likes to play with my little sister, take naps on the pillows and drink water straight from the hose. She doesn't even seem to to mind the desert weather out here either as long as we take our walks in the morning. :-) We can't imagine life without Luda! Thank you so much for all you did to bring us together, from bringing her into the world to putting her on a plane headed for our home. We tell anyone who asks us all about River Hill. If ever Luda and I ever decide she's tired of being an only-Pug we know who to call!"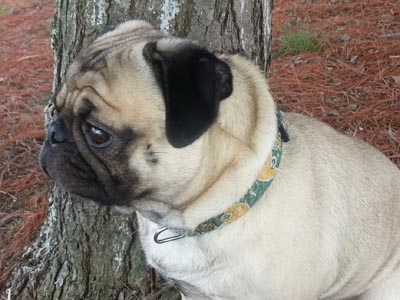 "This is otis. He is a very loveable and protective pug. He is spoiled rotten and loves to lay around on our laps. We are so happy that he is part of our family."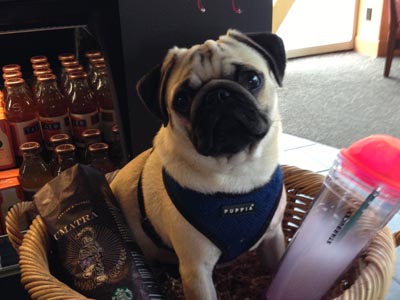 "I just wanted to send you some pictures of Zeke! He just turned 1 on Jan 5th! He is such a great dog with a big personality! Pretty much since the day I bought him home he has slept under the covers next to me with his head either on my face or on my pillow :) He is a love bug and my side kick! Thank you so much for giving me the chance to be his "mommy." I got him from you after I lost my other pug to pug encephalitis and he helped me through the grieving process so much. Unlike most pugs, Zeke loves to swim! He will jump into a pool to swim or when we go for a long walk at a particular place that has a lake he goes right in for a swim! I have attached some pictures of him for you :)"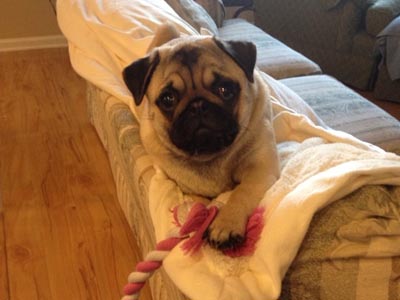 "Just wanted to show you how great Gracie is doing!! We love her soooo much! She gets along so well with Bella my other little girl. She runs the show!"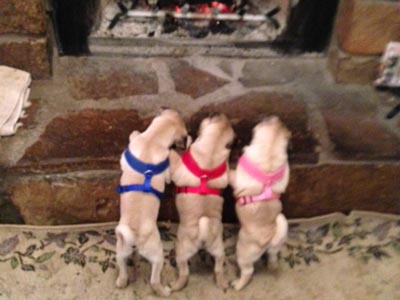 "I thought I would send an updated picture of the girls I got from you. They are over 11 lbs now. They know how to sit and stay. They are completely house trained and sleep in their bed all night instead of the crate. They like to warm their feet after being out side in the cold."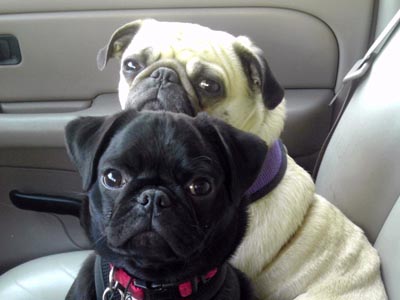 "LeBron loves his 5 year old sister Rambunctious! And,...the feeling is mutual! He is 12.1 lbs. now and such a sweet boy! We all just adore him!"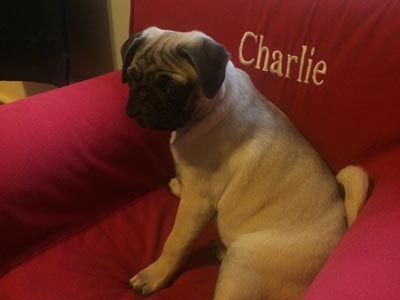 "I wanted to send you a follow up to tell you how much we adore our puppy we got from you all. Cupcake, who now goes by "Otis," is such a delight. He's a stinker like most puppies, but he's the sweetest little guy. He loves to snuggle and lick our faces. He and my son have become the best of friends. We just wanted to thank you for the great experience getting our pug from you all. If you ever need us to make a recommendation or reference for you all, please let us know."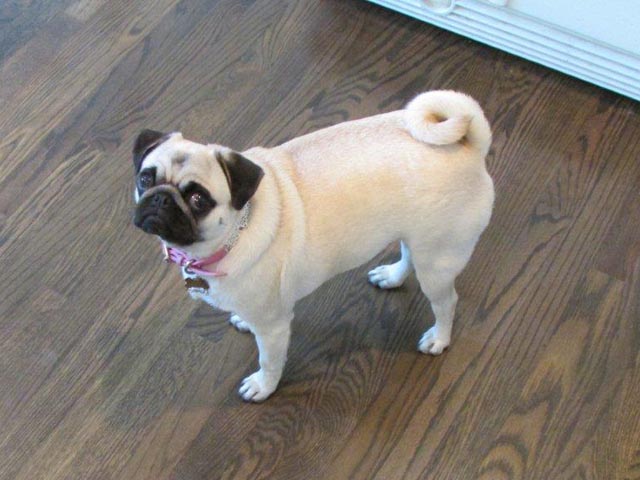 "Just wanted to send you a picture of our Butter and let you know she had a great first year with us. Thanks again for giving her to us. Maybe someday we will contact you again for a little brother or sister.... hmmmmmm"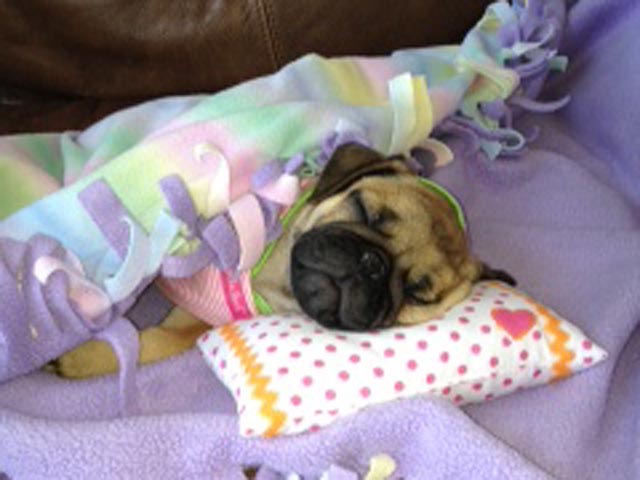 "Just thought I would let you know that this is the smartest puppy ever! Yesterday she went to the bell at the front door and rang it all by herself to go outside to potty!!!! That is awesome!! I have bell trained two other dogs and it's a long process! I never expect a dog to get it within the first week!!! She is already associating that bell with the front door!! That's amazing!!"
"Just wanted to give you an update on Bentley. Bentley is a loving, playful, inquisitive, and well-mannered pug. He has a soft, smooth coat instead of a coarser coat like many pugs have. He potty-trained fairly quickly; he sits by the door when he needs to go outside. After two visits to the vet, they now know who Bentley is and they love it when he comes to visit (they leave him up front so he can greet the other customers and patients). My vet's son loves to take care of Bentley so if I'm going to be out of town, I kennel him for the day and he takes special care of him for me. He loves to play outside in the sun. Bentley has been a wonderful addition to our household."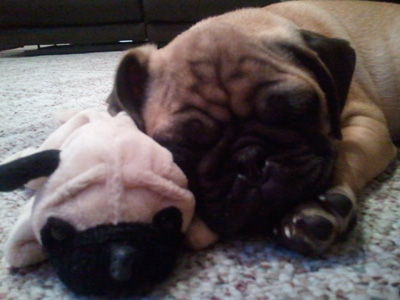 "We wanted to let you know how happy we are with our wonderful Harley. He has brought lots of love and joy into our lives and we are looking forward to giving him a brother from your next litter."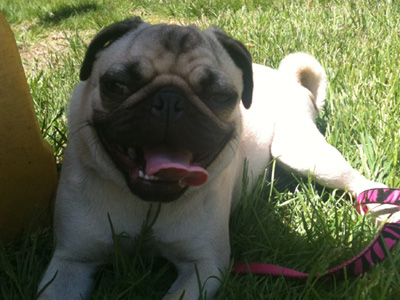 "This is daisy formally known as "sadie" she is a great dog and it was a wonderful experience recieving her."
"Thank You So Much For Allowing This Wonderful Little Puppy Into Our Family! Bandit Is Full Of Life, And Is Always A Happy Boy! He Has Brought Our Family Happiness In Such The Short Amount Of Time That We Have Had Him, I'm So Pleased To Know That I Will Get To Spend Many Years To Come With Our Precious Boy! My 2 Year Old Daughter Now Has A New Best Friend :) Thank You Riverhillpugs.com For Bandit, You Are Truly Wonderful!"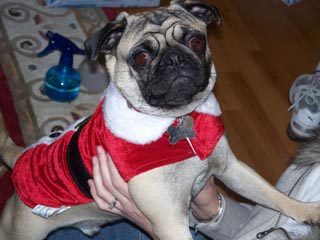 "It has been almost a year since we got Tex from you and I just want to let you know what a great dog he is. His new name is Gus and it fits his personality to a tee. He is lovable yet crazy. He learned to pee by lifting his leg but he does it in a special way. Gus lifts both hind legs to pee at times..so he does a handstand to pee. Gus is spoiled rotten and sleeps in the bed. He sleeps just like us with his head on the pillows with us. He rules the doggie park and loves playing with the other dogs. His best friend is my mom's dog who his 3 times his size and Gus's uses him like a jungle gym..sliding down his back at times. Gus loves walks an drags me as far as he can go. I just wanted to let you know how he is doing and show you some pixs. He is the best dog and we thank you!!"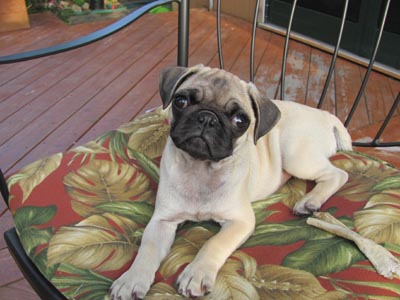 "She is doing great with all her new brothers, sister and cousins." Hattie lives with a great family in Michigan!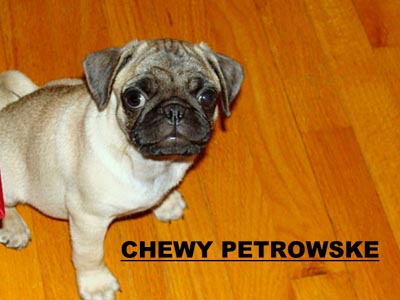 "I have never purchased a dog off of the internet before and Betty and Tracey made me feel that I was #1 from the beginning to the end of the transaction. I called early in the morning and late at night to enquire about the pups and Betty was there for me every step of the way !! She is awesome!!!I was a nervous Nelly, never had a Puppy Pug before and I had a million questions. Calling at all times of the day & Night (SORRY AGAIN BETTY),Betty was so patient and honest !! It wasn't every day that we just transfered over $500 to complete strangers in the hopes that we got a healthy new addition to our family,paper work,and free delivery !! She also blessed us with Jewel *New Nick name Betty_Girl* I recommend RiverHillPugs to any and everyone !! Thanks so much for the perfect fit to our growing family !!"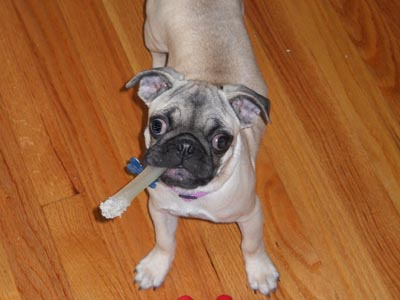 "I wanted to let you know that Milly is doing great! We've had her now for almost two months, and she's doing really well. She's super smart (good and bad) and is great at coming when called and getting down when asked. She's pretty good at sitting and staying, but we've found that she's so anxious to get running and playing that it's hard to keep her in those positions. She absolutely loves sitting in the sun, running at full speed, and playing with the other puppy we got (Barney). They're the best of friends and do not enjoy being separated for any reason. Her favorite game is to get Barney to play with her (so, stealing his toys, chasing him, nipping him, etc). Thank you again so much for the wonderful puppy! You did a fine job raising her, and we've had so many compliments on her."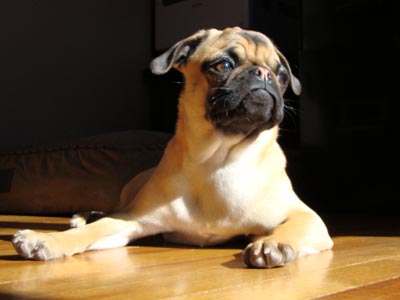 "She is the perfect Apricot color I was looking for and very loveable and sweet like you said. Thank you again and she is in great hands with lots of love back. "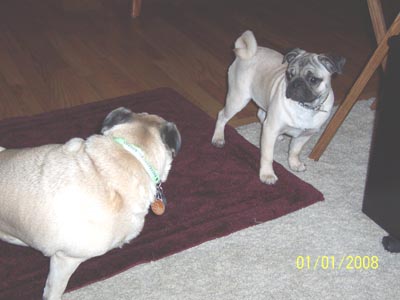 "We adore her! She is so much fun and has the cutest personality and very smart. She has grown so much. She weighs almost 12 lbs now. Maddie is on the right of the photo and Rudy is on the left."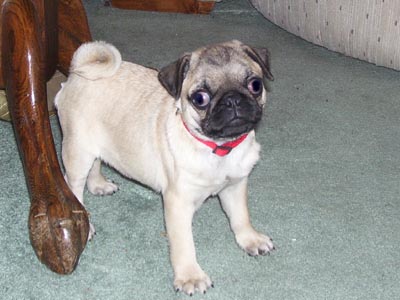 "He has brought us so much love and joy." Bennie lives in Dixon, California.
All trademarks and copyrights on this page are owned by their respective owners. All else &copy Riverhillpugs.com. All Rights Reserved &copy 2017